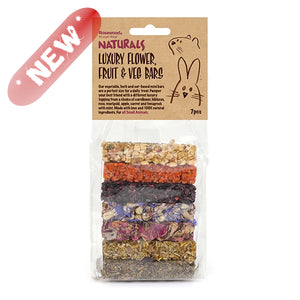 Rosewood
Rosewood Luxury Flower, Fruit & Veg Bars
Seven tasty bars, each topped with a different flower, fruit or veg (Carrot, Hibiscus, Rose Blossoms, Marigold, Apple, Cornflower Petals, or Fenugreek with Mint). Perfect for one-a-day treating! Each approximate 12 g mini bar is made from a base of vegetable, oat and herbs.
Size: 80 g
Ingredients: Dandelion (16%), Oats (14.2%), Vegetable Starch, Pea Flakes (11.4%), Dried Carrot (8.2%) Parsley (5.7%), Hibiscus (5.3%), Rose Blossoms (5.3%), Marigold (Calendula) (5.3%), Dried Apple (4.7%), Cornflower Petals (3.5%), Peppermint (1.8%), Powdered Fenugreek (1.8%), Vegetable Oil,
Shipping and delivery fees are calculated based on the following table:
YOU LIVE IN:
ORDER VALUE
(before tax)
SHIPPING/DELIVERY CHARGE
Calgary
Over $20
FREE Delivery!
Calgary
Under $20
$5 Delivery
Airdrie, Chestermere or Cochrane
Over $75
FREE Delivery!
Airdrie, Chestermere or Cochrane
Under $75
$5 Delivery
All other Canadian addresses
No minimum

Zero Commitment Shipping Quote emailed to you (see below for details).

USA and International addresses
No minimum

Please contact us (see below for details).
---
Share this Product
---
More from this collection