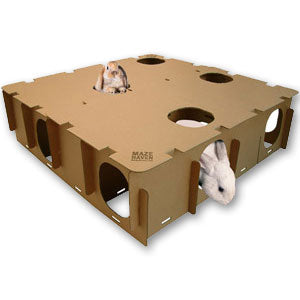 Binky Bunny
Maze Haven
Something fun and exciting.... the Maze Haven from Binky Bunny! Bunnies everywhere will be very excited and busy with this heavy duty, labyrinth style hideout.
Enrich your animal's life with the ultimate activity center that encourages play, exploration, and exercise. Build single stories, or even a double story, ALL from the same maze kit.
Create a Labyrinth of Cubby Holes, Pathways and Hideouts
Irresistible for rabbits whose survival instincts drive them to mentally map out their surroundings for escape routes and hideouts - keeps them on their toes with ever changing possibilities.
A great place to nap and play!
Reconfigures into a Whole New Maze in just Minutes!
Create and recreate a horizontal and/or vertical labyrinth of cubby holes, pathways and hideouts that keep animals interested and on the move. Change just the inside by switching around the panels. Change the outside with many configuration options. The possibilities are limitless!
Strong and Durable:
Made with High Quality Cardboard - Stays Sturdy even with the most active heavyweights! Withstands normal "remodeling" by fuzzy headed redecorators.
Collapsible for storage
Single Story designs: Just take off the tops, and it easily folds up without having to disassemble.
Two Story Designs: Take tops off, detach levels, and fold up center.
DIMENSIONS: Assembled Single Story 34.5 x 34.5 x 10 inches (87.63 x 87.63 x 25.4 cm)
HOLE SIZE: 6.5 x 5.5 inches (16.51 x 13.97 cm)
Shipping and delivery fees are calculated based on the following table:
YOU LIVE IN:
ORDER VALUE
(before tax)
SHIPPING/DELIVERY CHARGE
Calgary
Over $20
FREE Delivery!
Calgary
Under $20
$5 Delivery
Airdrie, Chestermere or Cochrane
Over $75
FREE Delivery!
Airdrie, Chestermere or Cochrane
Under $75
$5 Delivery
All other Canadian addresses
No minimum

Zero Commitment Shipping Quote emailed to you (see below for details).

USA and International addresses
No minimum

Please contact us (see below for details).
---
Share this Product
---
More from this collection