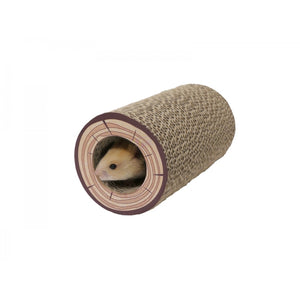 Rosewood
Rosewood Shred-a-Log Corrugated Tunnel
From Rosewood's "Boredom Breaker" line.
Rosewood's corrugated cardboard tunnel will be your pet's favourite new toy. Hamsters and other small pets will chew, play or sleep in the tunnel, especially when filled with hay and other special forages. Try tucking some Little Hearts or Carrotys in with the hay for enrichment.
Size: 18 cm long x 9.5 cm diameter
Shipping and delivery fees are calculated based on the following table:
YOU LIVE IN:
ORDER VALUE
(before tax)
SHIPPING/DELIVERY CHARGE
Calgary
Over $20
FREE Delivery!
Calgary
Under $20
$5 Delivery
Airdrie, Chestermere or Cochrane
Over $75
FREE Delivery!
Airdrie, Chestermere or Cochrane
Under $75
$5 Delivery
All other Canadian addresses
No minimum

Zero Commitment Shipping Quote emailed to you (see below for details).

USA and International addresses
No minimum

Please contact us (see below for details).
---
Share this Product
---
More from this collection