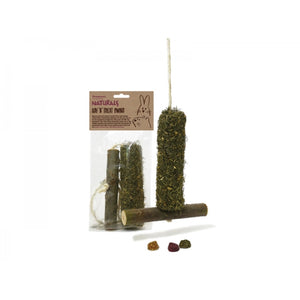 Rosewood
Rosewood Hay 'n' Treat Swing
Unique treat/toy challenge for most small animals. Hang in your pet's home to enrich their environment and provide a stimulating challenge. As your pet tries to eat the wonderful meadow hay that coats and fills the parchment tube, they will occasionally release one of the 'hidden' grainless veg and herb drops! The hazelnut branch is also great to chew and gnaw and wear away those ever growing chompers. Ideal for rabbits, guinea pigs, chinchillas and degus.
Size: 120 g
Ingredients: Hazelnut Wood, Hay Tunnel (Meadow Hay (79.3%), Vegetable Starch, Marigold Petals (10%)), Grainless Drops (Peas (60%), Carrots (11.2%), Vegetable Starch, Parsley (4%), Dandelion (3.5%), Beetroot (2.5%), Ribwort (2.1%), Timothy Grass (1,6%), Nettle (1.5%), Cocksfoot (1.3%), Smooth Stalk Meadow Grass (0.9%), Green Oats (0.8%), Red Clover (0.6%), Meadow Fescue (0.6%), Ladies Mantel (0.6%))
Shipping and delivery fees are calculated based on the following table:
YOU LIVE IN:
ORDER VALUE
(before tax)
SHIPPING/DELIVERY CHARGE
Calgary
Over $20
FREE Delivery!
Calgary
Under $20
$5 Delivery
Airdrie, Chestermere or Cochrane
Over $75
FREE Delivery!
Airdrie, Chestermere or Cochrane
Under $75
$5 Delivery
All other Canadian addresses
No minimum

Zero Commitment Shipping Quote emailed to you (see below for details).

USA and International addresses
No minimum

Please contact us (see below for details).
---
Share this Product
---
More from this collection